HELP AVOID BED BUGS WHEN TRAVELING
Find out how to inspect your room for signs of bed bugs when you travel and get tips to help make sure these biting pests don't become an unwanted souvenir from your trip.
Powered by the SC Johnson® Institute of Insect Science for Family Health
Vacation should be a time to make memories with family and friends—without worrying about getting itchy bites in your hotel or bringing bed bugs back home with you. Follow these smart tips to help protect your family from bed bugs while you travel and after you get home.
SIGNS OF BED BUGS IN HOTEL ROOMS1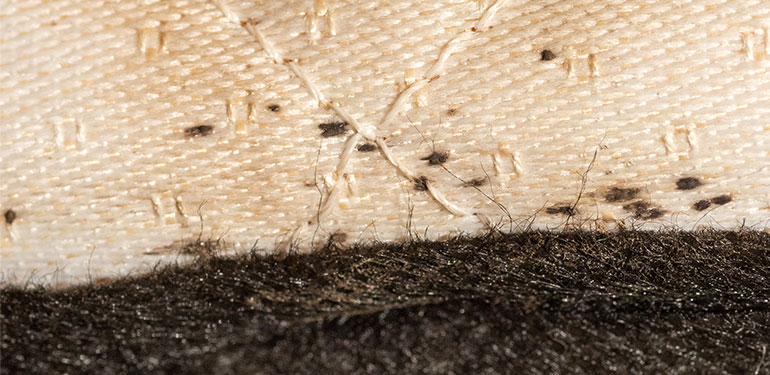 Bed bugs are small, sneaky critters that are experts at hiding. So even if you can't see the bugs crawling around, they might still be there. Be sure to check common bed bug hiding spots in your room for these signs that you have unwanted travel companions:
Rusty or reddish stains caused by bed bugs being crushed.

Dark spots, which are dried bed bug fecal matter.

Bed bug eggs and eggshells. Nymphs shed these tiny, pale yellow skins (about 1mm) as they grow larger.

Live bed bugs that can make their way to mattresses by crawling up the legs of bed frames and other items nearby that touch the bed.
THINK SMALL TO HELP DETECT BED BUGS
Bed bugs are about the width of a credit card, which means they can hide in tiny spots. If a credit card can squeeze into a crack or crevice, that spot could also harbor a bed beg.1
WHERE TO LOOK FOR BED BUGS
Using a bright flashlight, check these common spots for signs of bed bugs:
Mattress and box spring seams

Bedsheets

Bed skirts

Cracks in the headboard and bed frame

Between the cushions and in the seams of upholstered furniture

In the folds of curtains

Luggage racks

Baseboards

Picture frames

Electrical outlet plugs

Behind loose wallpaper
BED BUG TRAVEL TIPS
BEFORE YOU LEAVE2
DURING YOUR TRIP2,3
AFTER YOU RETURN HOME2,4
Powered by the SC Johnson® Institute of Insect Science for Family Health
FIND SOLUTIONS FOR BED BUGS
Explore our family of products designed to help you get tough in the fight against bed bugs and keep them from invading your home.
---
SOURCES
Related Articles
Related Articles