HOW TO HELP GET RID OF SPIDERS
It can be tricky to get rid of spiders because they often make their homes in secretive, undisturbed places. We've got you covered with expert tips to help you protect your family and keep spiders away.
It's natural to fear spiders. But the good news is that most species are harmless and easy to kill with just a tissue or spray product. Some spider species, however, are very venomous, so always exercise caution until you're sure what type of eight-legged critter you're dealing with.
HOW TO HELP KEEP SPIDERS AWAY
Get tough in the fight against spiders by following these simple tips:
Remove spider webs with a broom or vacuum cleaner attachment.

Keep trash, lumber piles, bricks, and other outdoor structures tidy to prevent spiders from making these areas their home.

Trim trees and shrubbery so they do not make contact with your home. Not only are these great places for spiders to hide, but they also give spiders a quick and easy access point into the home.

Routinely remove clutter in garages, basements, and storage areas where spiders like to hide indoors.

Ensure your doors, windows, and window screens are sealed and intact.

Eliminate food sources for spiders (other insects!) by cleaning up food and drink spills and storing all food in sealed, air-tight containers.
LIGHTS OUT
Don't leave outside lights on more than they are needed. Flying insects like moths and mosquitoes are attracted to lights, which in turn attract spiders.
VENOMOUS SPIDERS
Black Widow, Brown Widow, Brown Recluse
If the spiders you encounter look like the images below, be extremely careful when attempting to treat them. Spiders such as black widows, brown widows, and brown recluse spiders can inflict painful and dangerous bites. So it's best to contact a professional pest-control company immediately for help, particularly if you see more than one.
SQUISH THE SAC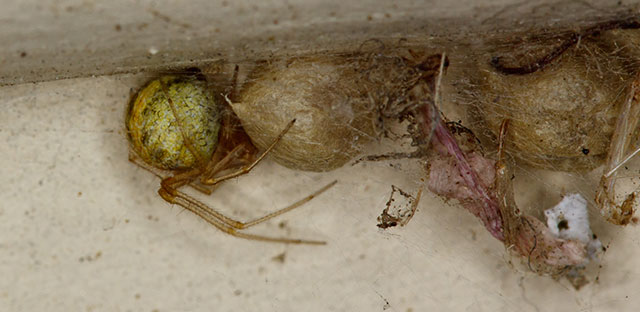 If you come across a spider egg sac in a web or attached to a female spider, destroy it as soon as possible. These sacs can contain several hundred eggs that can hatch into several hundred new spiders.
SPIDER-CONTROL PRODUCTS
A single, non-venomous spider can be picked up with a tissue just as easily as spraying it. But if you can't get past the fear, turn to pest-control products to help get rid of spiders:
Kill spiders on contact with a bug spray.

For heavy infestations, attack spiders where they hide with a fogger product.

Use a bug barrier productto help prevent insect infestations, which in turn attract spiders.
Be sure to read the label carefully and use all spider control products as directed.
FIND SOLUTIONS FOR SPIDERS
Explore our family of products designed to help you get tough in the fight against spiders and keep them from invading your home.
---
SOURCES
Related Articles
Related Articles