YELLOW FEVER: SYMPTOMS, TREATMENT, & PREVENTION
Get the facts about yellow fever and find out how to help protect yourself and your loved ones from this mosquito-borne disease.
Powered by the SC Johnson® Institute of Insect Science for Family Health
Although it can be tricky to completely get rid of cockroaches, a combination of roach-control products and cleaning tips can help. Find out how to help protect your family and get rid of roaches with expert advice from our entomology team at the SC Johnson® Institute of Insect Science for Family Health
HOW TO HELP KILL COCKROACHES
If you have a roach problem, take swift action to help kill these quickly reproducing pests in three simple steps:
Apply a roach-control spray to attack the roaches you see. You can also apply the spray to areas where they hide, like cracks and crevices.

Control the problem with cockroach baits or fogger products to kill the roaches that are hiding.

Use a barrier product to create a line of defense around your home and keep roaches out.
Be sure to read the label carefully and use all cockroach-control products as directed.
WHERE DO ROACHES COME FROM?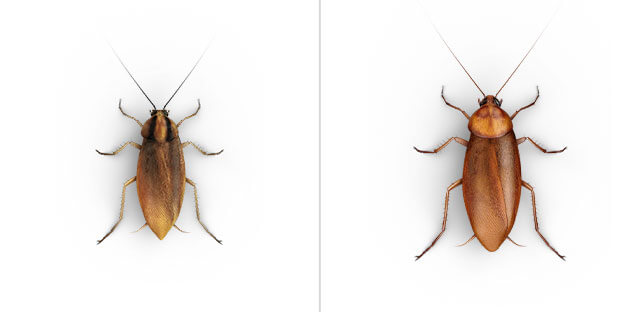 Small Roach & Large Roach
Small roaches live indoors and can come in from neighboring homes, apartments, condos, and garbage areas. They can also be brought in with food or other packaging, such as cardboard boxes and paper bags.
Large roachesusually wander in from the outdoors. They can be found outside around the foundation, near patios, under mulch, or in sewer systems.
WHAT ATTRACTS COCKROACHES?
Roaches love to eat the same things we do. So effective cockroach control starts by making your home unappetizing for these pesky creatures with a thorough cleaning. You can help protect your family and prevent roaches from becoming dinner guests by following these cleaning tips:
Wipe up food and drink spills right away, especially if they're sugary, starchy, or greasy.

Always store food in sealed, airtight containers.

Clean your refrigerator, oven, microwave, and toaster regularly. And be sure to clean under and behind these appliances to remove stray bits of food.

Keep your sink free of dirty dishes.

Remove pet food after your furry family member finishes eating.

Take out the garbage regularly and tie the bag tightly.

Throw away old boxes and newspapers where roaches like to hide.

Keep storage areas dry as these pests are attracted to moisture.

Identify and repair indoor water leaks as moisture can attract cockroaches.
CREATURES OF DARKNESS
Roaches have evolved to survive when fewer of their natural predators can see them, so they come out of hiding in the dark when their predators are less likely to squash or eat them. But it's not just turning on the light that will spook a roach. Vibrations, noise, and air currents can also scare them back into hiding. If you see these critters in your home during the daytime, this could be a sign that you have a roach problem.
HELP PREVENT COCKROACHES FROM COMING INSIDE
Seal cracks and crevices where roaches can hide and enter your home from the outside or neighboring units.

Remove firewood and other debris near your home where outdoor roaches like to hide and breed.

Help keep roaches out by using a roach barrier spray around doors, windows, baseboards, and your home's foundation.
5 TIPS FOR USING COCKROACH BAITS
Powered by the SC Johnson® Institute of Insect Science for Family Health
---
DISCLAIMER
This is provided for your information only and is not intended to diagnose or treat any medical condition. Should you have any symptoms or concerns, please contact your doctor.
SOURCES
Related Articles
Related Articles